Choosing us is the best way to discover all the beauties of the coast in a traditional Gozzo Sorrentine Boat
Capri Boat Tour
Treat yourself to an unforgettable day aboard our boats to discover Capri, the island of dreams. The tour will guide you through the magnificent coasts of Capri made of long cliffs, caves and numerous coves that make this place enchanted. Among all the best known are the White Grotto, the Green Grotto and the famous Blue Grotto. During the tour you can admire the Natural Arch, the Lighthouse of Punta Carena, contemplate the Faraglioni closely and take a dip in the blue water of the island.
Amalfi Coast Boat Tour
The famous Amalfi Coast seen from the sea is an experience not to be missed. The tour will take you to discover the most fascinating corners of the coast where you can admire small villages on the rock, valleys, beaches and hidden coves. A tour around the Li Galli island, a visit to the famous Emerald cave in the bay of Conca dei Marini, the Fiordo di Furore and the charming Positano where we will stop for a swim in the crystal clear waters.
Sorrento Sunset Experience
A sunset boat tour will guide you along the coastline of the Sorrento Coast. A bottle of prosecco, the sun that goes down on the horizon, the colors of the sea and the sky that turn pink, represent a suggestive and exciting experience, ideal to admire one of the most spectacular landscapes of our territory and spend pleasant moments to relax.
Our Boats
Vivila Serapo 33
Passengers:

up to 12 people

Length overall:

10.53 m

Beam:

3.35 m

Motors:

2x270 HP VM

Cruise speed:

24 knots

Max speed:

28 knots
Alicella Acquamarina 750
Brand:

Acquamarina

Passengers:

up to 8 people

Length at waterline:

7.50 m

Beam:

3.00 m

Motors:

1x220 HP VM

Cabins:

1

Cruise speed:

27 knots

Max speed:

35 knots
Selvaggia Di Luccia 28
Brand:

Di Luccia

Passengers:

up to 12 people

Length overall:

8.50 m

Beam:

3.00 m

Motors:

1x vm 350 cv

Cruise speed:

20 knots

Max speed:

30 knots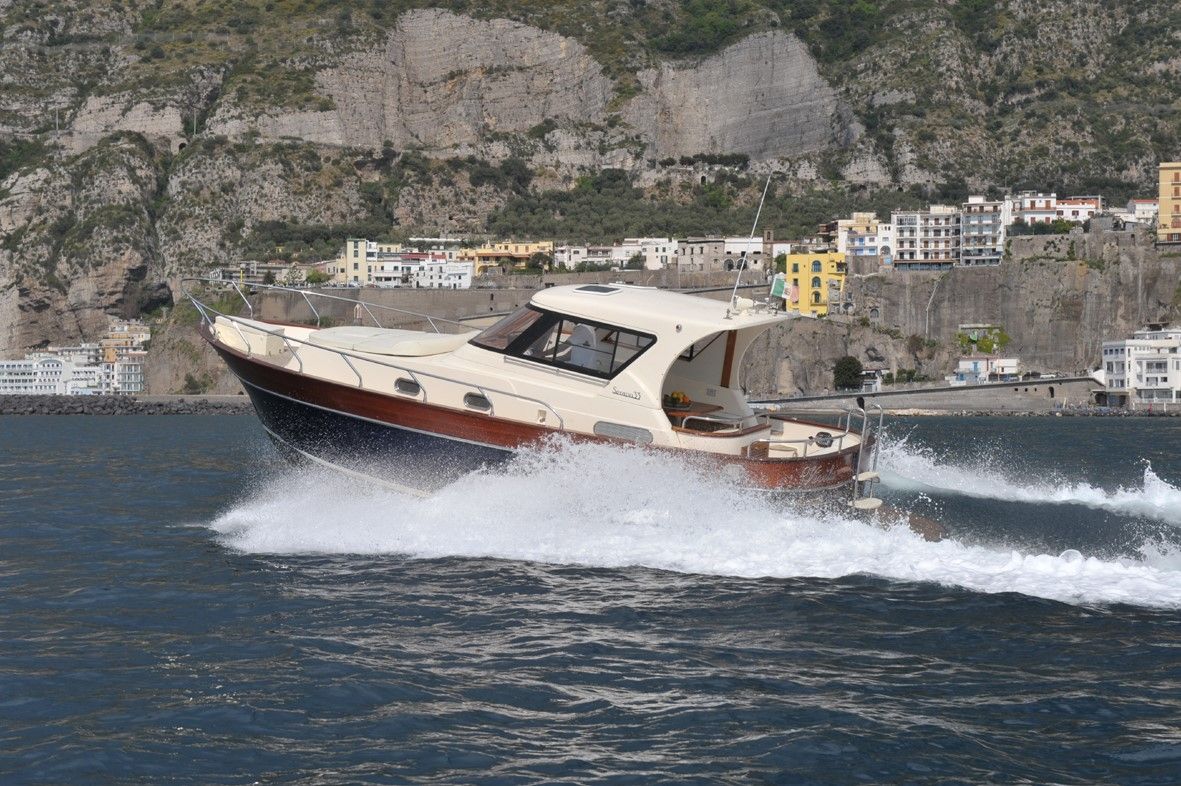 Sea Transfer Service
Live it Charter, with its professional and qualified staff, offers you the opportunity to book a private transfer by sea to quickly reach your destination. Our convenient and effective service is the perfect travel solution to avoid the stress of car traffic. You can quickly reach Sorrento, Capri, Positano, Amalfi, Naples and enjoy a unique view in the world.
Contact us for a free quotation
* Mandatory fields.
Share your photos with our hashtag!
#liveitcharter